Keeping up to date with all the weather information in the area where you have never been easier than now. Thanks to the weather widgets on iPhone and iPad, you will always stay informed.
Next, we bring you a selection with 10 widgets that we consider the most useful and above all complete that you can find in the App Store, and thus know how the weather is going in your area.
Weather Widget & Radar Fuji
If something stands out in Weather Widget & Radar Fuji it is precise because of its incredible weather widget for iOS 14. And there are many, with different styles, colors, fonts, and designs to choose the one you like the most and give it a unique touch. your cellphone.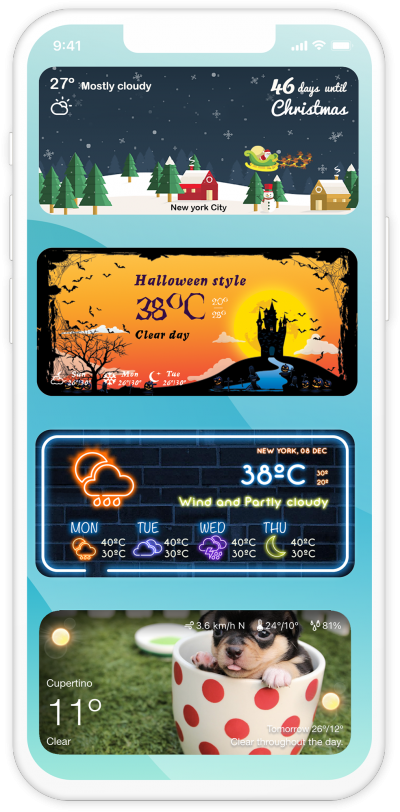 – VARIOUS WIDGET STYLES For any of your decoration needs. For example, DIGITAL & ANALOG CLOCKS for stylish lovers, cat, and dog for animal lovers, metallic for strong style, flower styles for flower lovers…
– VARIOUS WIDGET THEMES for any of your important events. For example Halloween theme, Christmas theme, the love theme for Valentine's day…Those are not mere pictures like other widget apps but uniquely created designs for your events.
– You can CUSTOMIZE EVERYTHING in the widgets with your pictures, unlimited font, and colors.
– MANY FREE WIDGETS: Free version will include many interesting widget styles and lets you customize freely. For the pro version, you can use all the widgets and unlock all premium features. Refund and cancel anytime if you don't like it.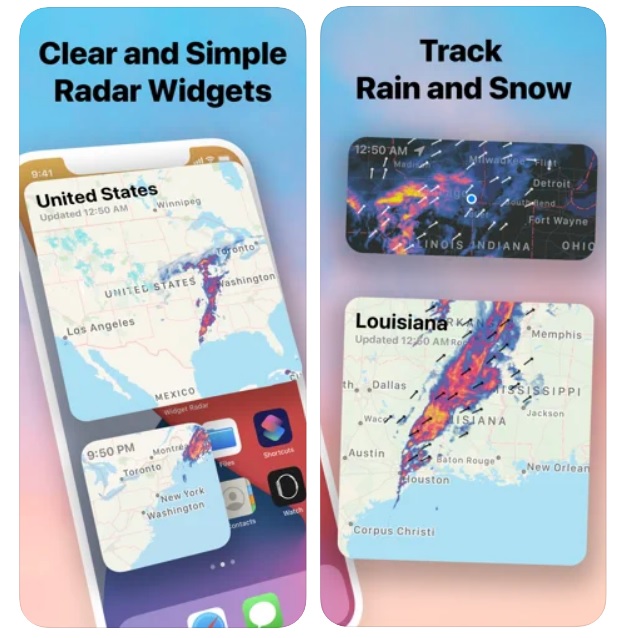 – INTERACTIVE RADAR Widgets: You can track rain, snow, hurricanes and severe weather with live and future radar. Provided by Windy, Dark Sky, BBC, Yahoo, Rain viewer. Attached are utilities such as warning indicators of environmental pollution, lake, …
– UV Index widget: Protect your health, skincare.
But that is not all, since it is very accurate for meteorological reports since it uses the most specialized and important sources in the sector. In the same way, you can track weather events, know the UV index, add a weather calendar, and much more from the same widget.

Yahoo Weather
Yahoo Weather is an essential alternative to know the weather in your area and anywhere in the world. Get a personalized forecast, either by the hour, every 5 or 10 days as you wish.
It offers you details related to the wind, atmospheric pressure, probability of rainfall in your area, notifications in real-time and you can even mark your favorite locations to keep up with the environmental situation there, among many more options.
Download Yahoo weather: HERE
AccuWeather: Weather Alerts
AccuWeather is one of the most important ways to stay informed about changes in the weather in real-time. Access comprehensive weather information from UV index, visibility, alerts, precipitation, air quality index reports, and many more.
Its interface is very clean, simple, and easy to use, it offers you updated articles and videos on current weather changes, weather conditions anywhere in the world and great compatibility with your Apple Watch.
Download Accuweather: HERE
Carrot Weather
Carrot Weather is an incredibly beautiful, practical and above all fun application to keep informed of the weather. Precisely, you can choose between five different personalities to give your app and let it give you the weather report.
Likewise, it is still accurate, reliable and fast, since you can access forecasts when and how you want, from current to at specific times or by days. In addition, it has a paid version, which gives you access to many more functions that you will surely love.
Download Accuweather: HERE
Weather Fit: Accurate Forecast
If you are looking for something beyond the weather report, Weather Fit may interest you. It is one of the best weather widget apps on iPhone and iPad that, in addition to informing you about the weather situation in your area, gives you recommendations on what clothes to wear.
Although it is not a fashion app, it gives you very useful tips to cope with the weather situation in a creative and fun way through a customizable avatar that you can create that will dress according to the weather. Isn't it cool?
Download Accuweather: HERE
Windy.app – wind & weather
If you are a follower of water sports such as surfing, kitesurfing, windsurfing or many others, this application is for you. It is a widget for iPhone with which you can obtain detailed information on the weather situation in your area.
Receive real-time alerts on wind, storm and tornado through automatic notifications, know the forecast of waves, wind speed, access a weather history and much more.
Download Accuweather: HERE
MyWeather – 10-Day Forecast
It is one of the best free iPhone weather and weather app that you can find. Get real-time weather data, forecasts up to the next 10 days and trends accurately on your iPhone and iPad.
With access to the climate of more than 200,000 cities around the world, no matter where you are, you will always be informed. In addition, it has a clean and highly personalized design, real-time notifications, different languages and much more.
Download Accuweather: HERE
Heyweather
One of the best weather widgets for iPhone can be found with HeyWeater. Complete and aesthetically great assortments for the home screen of your mobile.
The highlight is its high level of customization, being able to change multiple sections to create your own style. Additionally, you can choose up to 10 cities to monitor the weather, see wind speed, humidity, UV index, pressure, approximate visibility. All in the same place.
Download Accuweather: HERE
Tomorrow.io
For a reason Tomorrow.io is one of the best weather widgets for iPhone and ipad on weather information. It offers you detailed information in real time, alerts for weather events, air quality and wind speed.
Also, its widget for iOS 14 is excellent for how comprehensive it is, displaying weather forecasts, air pollutant levels, and much more. Without forgetting that its design is quite careful and aesthetic.
Download Accuweather: HERE
Forecast Bar – Weather + Radar
If you want accurate, reliable and highly customizable weather forecasts, Forecast Bar is your best alternative. It is able to adapt to your needs to bring you the best information as an iPhone weather widget.
Different widgets to choose from on your home screen, track up to 4 cities simultaneously, give each one a unique style, receive push notifications about weather alerts and much more in one place.
Download Accuweather: HERE
In this way, you already have all the alternatives so that you can choose which of all these weather widgets is the one that best suits your tastes and needs. Try them and tell us about your experience.