Exposure to ultraviolet (UV) radiation in sunlight can damage your skin, cause sunburn, and increase your risk of skin cancer. UV light app shows you when to be careful and when you can safely enjoy the sun.
-Protect yourself from sunburn.
– Plan the best time to be outside, Look at the UV index forecast for the day and when it is safe to be outside.
– Find your risk of burns. Find out how long you can spend in the sun without applying sunscreen through a personalized skin type assessment.
– Sunscreen reminder. Find out how well your sunscreen protects you and remember to reapply it.
How to choose UV index for iPhone:
– UV prediction is part of weather forecasting, so in some weather apps, there is a UV index tracker. Do you want to choose a separate UV application or do you want to choose a weather application with a UV index forecast?
– There are reminders included. With the corresponding UV index, the application will suggest to you what to do during the day. If you have UV knowledge, you only need simple reminders.
– Has UV Widget: See current UV rays and your risk of sunburn directly from the home screen.
Recommend: FUJI Weather app
The Fuji weather is not just a general weather app, but it is designed as an impressive highlight for your phone. Its carefully crafted widgets will make your home screen sparkle and you can easily check the weather condition at a glance without having to open the app.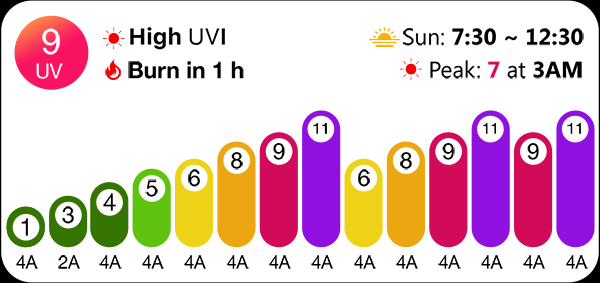 MAIN FEATURES:
– Rich weather widgets styles
– Weather forecast for many locations at a glance, supports over 200,000 cities worldwide.
– Detailed weather information: Temperature, real feel temperature, humidity, precipitation (snow and rain), wind and wind direction, storm, UV, Sky
– Moon phase, sunrise/set
– Air quality index worldwide
– 48-hour weather forecast
– Weather forecast for the next 7 days
– Weather maps, radar
– Weather calendar
– World clock
– Tips & Advice on weather conditions
AWARD AND ACHIEVEMENTS
–*** #1 weather app on US store (09/2020) ***–
–*** App is nominated as 'App of the day by Design Nominee ***–
–*** Featured on iTunes 316 times worldwide***–